yaourt: a pacman frontend
1 juin 2007 - admin
About
Yaourt is not maintained anymore ! Please choose another AUR Helper: https://wiki.archlinux.org/index.php/AUR_helpers
Yaourt is a command line interface program which complete pacman for installing software on Archlinux.
Written by Julien Mischkowitz <wain at archlinux.fr> and Tuxce <tuxce.net at gmail.com>.
Overview
AUR support (search, install, check conflict and dependency)
Interactive search and install
Building packages directly from ABS source
Handling backup files: .pac*
Save, restore alpm database. Query directly from a backup file.
Search orphans and test local database
Support splitted packages
Get It
It's recommended to read about AUR before, particularly about the packages needed to use it.
You can install yaourt from AUR:
git clone https://aur.archlinux.org/package-query.git
cd package-query
makepkg -si
cd ..
git clone https://aur.archlinux.org/yaourt.git
cd yaourt
makepkg -si
cd ..

Examples
Search and install:
yaourt
Sync database, upgrade packages, search aur and devel (all packages based on dev version) upgrades:
yaourt -Syu --devel --aur
Build package from source:
yaourt -Sb
Check, edit, merge or remove *.pac* files:
yaourt -C
Get a PKGBUILD (support splitted package):
yaourt -G
Build and export package, its sources to a directory:
yaourt -Sb --export
Backup database:
yaourt -B
Query backup file:
yaourt -Q --backupfile
Screenshots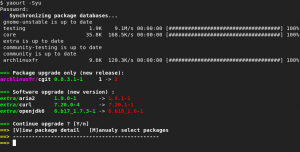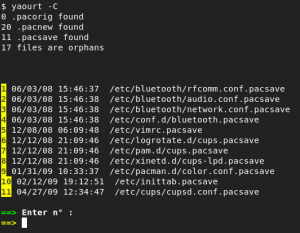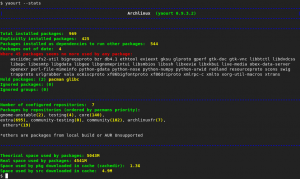 Links